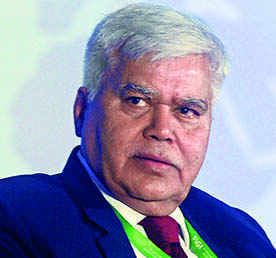 The Ayushman Bharat Digital Mission is intended to use digital technology to reduce people's hassles and make life simpler, says National Health Authority chief executive R S Sharma. The mission will create an ecosystem linking platforms like UPI, CoWin and Aadhaar to enable people to search, book and access healthcare services online, Sharma told TOI's Sushmi Dey. Excerpts from the interview:
What is the vision behind the Ayushman Bharat Digital Mission?
The idea is to use digital technologies to improve the quality, access and affordability of health services. That is the broad thought. Obviously, for provisioning of health services, you need hospitals, doctors, medicines and you need a whole ecosystem. The question is where do digital technologies fit in and whether we are in a position to deploy these and make these services come together.
So, how are you going to translate this into action. What are the key components?
Let me begin with one — digital identity. Once you have a digitally proven identity, both of doctor and patient, then you know, and can say that this patient was consulting this particular doctor and there is a unique health ID based on that digital identity.
Secondly, to consult a doctor digitally, you need a telecommunication infrastructure. Fortunately, in this country you have got 118 crore mobile connections and 80 crore internet connections that have penetrated everywhere and you have a very cheap data rate. People are watching films on mobile.
So, I think we have a very good way of doing video consultations…teleconsultations with the doctor.

Now, doctors need to write prescription. So, how do you get that prescription from the doctor. The mission will provide a digital signature, which will enable a prescription to be digitally signed and this will be acceptable by any pharmacy. Finally, the patient has to pay the doctor. You have UPI. You have the digital payment system which is hassle-free and instantaneous. We have all the pieces of the puzzle to deliver services.
Is this going to be implemented in phases? How long will it take to get started?
We are doing a countrywide rollout immediately. The architecture is ready. We also have proof of concepts —from the pilot projects that were conducted in six UTs — for all the artefacts like personal health record format, registry of doctors etc. Implementation will take time and not happen immediately. Some hospitals will join early on, some patients will also do so, others will gradually join. Adoption does take a little while but people will realise that it is an easier method.
Fortunately, we have built a number of platforms also like Aadhaar, UPI, CoWin. These platforms are highly scalable.
Is there a plan to link all these platforms?
These platforms will continue to exist and will continue to do whatever work they are assigned to. However, the linking part is very loosely connected through APIs. For example, Paytm is a sort of independent service but it is connected to UPI. Similarly, CoWin has hundreds of partners besides Arogya Setu and they are providing services like registration, booking of appointments, downloading certificates. The idea is to build a network to enable all these platforms to communicate with each other.
This is in a way is creation of universal digital ecosystem, are there checks and balances?

Certainly universalisation but making it absolutely interoperable. We are ensuring that nobody has the advantage, monopoly kind of behaviour will not be there.
What are the challenges?
One of the difficult things is to have digital systems in hospitals because that is where the records are going to be generated. The challenge is to digitise those records.